It's fall, and, while I typically try to hunker down and get writing again when the colder winds start to blow, I'm still heavily reading, so here's what I'm enjoying (with $affiliate links).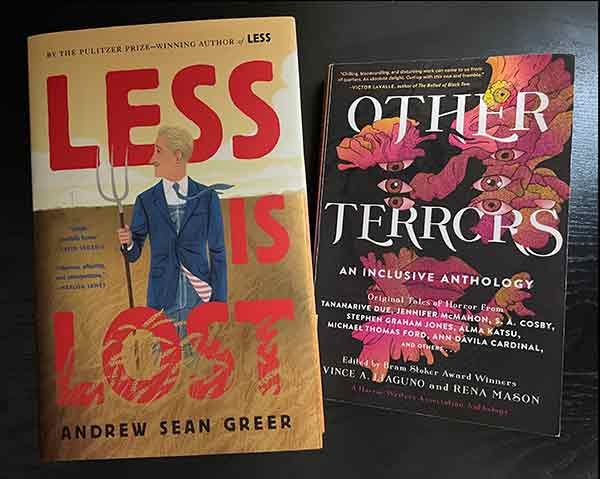 OTHER TERRORS; AN INCLUSIVE ANTHOLOGY. This is a collection of creepy tales from critically acclaimed, diverse authors with a broad spectrum of diverse and contemporary characters. These wonderfully inclusive and modern tales are not only riveting but also manage give a reader creepy crawly chills. Whooeee, some of these stories really strike a nerve, and others will leave you seeing circumstances in a whole new light. I especially loved the story Waste Not by Alma Katsu because, ooh, what a line it crosses; also, Idiot Girls by Jennifer McMahon and The Turning by Hailey Piper. Shivers and shakes. Highly recommended.
LESS IS LOST by Pulitzer Prize winning author Andrew Sean Greer. Its prequel, LESS, had me in stitches when I first read it in 2018, and I gave it five stars on Goodreads. I just reread it, and it still hilariously holds up. It's the story of a struggling novelist who receives an invitation to his former lover's wedding, and, rather than go, decides to accept every harebrained literary invitation he's received, from places around the world, to escape. I'm only a few pages in to the sequel, and I can't wait to see where Less takes us next.
http://www.silviaacevedo.com/wp-content/uploads/2022/10/Less-is-Lost-and-Other-Terrors.jpg
479
600
Silvia
http://www.silviaacevedo.com/wp-content/uploads/2021/12/logo_1024x156.png
Silvia
2022-10-06 14:03:37
2022-10-07 18:11:16
What I'm reading – Other Terrors and Less is Lost