Yaaaay! I am so glad to be back blogging. I've spent the past month recovering from elbow surgery, which kept one hand in a support brace, so I've refrained from too much typing, except for the ineffective, one-handed variety, haha. But now I've been cleared to type with two whole hands again (huzzah!), which is incredibly important in most aspects of my life, so yay! I'm back! 🙂
During my convalescence, I did (and am doing) quite a lot of reading. It's also summer, and I always say I want to spend more time reading in the summer. Here are some of the gems I've hit upon.
UNDER THE BLANKET SKY by Tim Fischer (picture book, May 2023, DoubleDay). A lonely boy is visited by a mysterious owl (perhaps imaginary?) who spends summer with him enjoying playful adventures before it must eventually move on.
This quiet, gentle book feels like a hug to lonely kids everywhere, or maybe to kids who find themselves alone at important moments and wish they had a forever friend to share them with. I was touched by the unspoken themes of time, friendship, and bittersweet goodbyes, leaving me a little breathless afterward. The illustrations are soft, ephemeral, luminescent. And another thing I loved about it: the boy wears glasses. I know it seems small, but there aren't enough books with kids who wear glasses, and it is so affirming for kids to read about others like them. This picture book is simply lovely. An Amazon Editors' Pick. A new classic. Recommended.
RESTART by Gordon Korman (middle grade, March 2018, Scholastic). A boy suffers amnesia after falling off a roof and gets a rare second-chance to reset his life's trajectory.
I'm a bit late to reading this considering it came out five years ago and is published by Scholastic, where I recently worked. But hey, definitely better late than never! This Amazon Teacher's Pick hits so many themes I can't resist: unreliable narration due to memory loss, discovering who you are compared to what others expect, restarting yourself after new experiences, joy, regret, processing an emotional renaissance. It's all there. I can see why this book is a teacher's favorite, and I can see why any kid who feels stuck might cling to it like a lifeline. You can change. You can start anew. You can reset your life. It's never too late. Recommended.
TWERP by Mark Goldblatt (middle grade, May 2014, Yearling). A 6th-grade boy in 1969's New York City is given a choice by his teacher to either keep a journal and write about what got him and his friends suspended or write a report on Shakespeare, which the boy is sure he'd flunk.
Again, I was late to the party on this one, but I'm so glad I discovered it. TWERP feels to me like a (lower stakes, gentler) middle grade CATCHER IN THE RYE. We see the world through the eyes of a genuinely likable boy who knows he made a bad choice — well, several, most of which he's willing to admit, except for the story his teacher most wants to hear. The protagonist has a good heart, though, and cares about his friends and family. You can't help but root for him and you're so glad when he comes to terms with it all. I'm about to start the sequel, FINDING THE WORM. TWERP is good stuff. Another Amazon Teacher's Pick. Recommended.
THE DEVIL PARTICLE by Kristin A. Oakley (young adult dystopian, June 2023, self-published). A 17-year-old boy living in a post-apocalyptic world competes to save humanity by becoming the single vessel containing all the world's evil.
Whew, that's some heavy stuff, isn't it? And who would want to do such a thing? It turns out there are plenty of altruistic, caring youth who vie for the chance to change the world, to better the planet, to save others. But first the candidates must compete in The Trials, with its cruel and deadly challenges. There's plenty to chew on in this book. Who's to blame for evil — and evil acts? How can we as a society and world curtail it? Would we be willing to sacrifice one innocent for all people when that innocent  is someone we know and love? And are The Trials what they appear to be? Fans of THE HUNGER GAMES and a good race to the finish will enjoy sinking their teeth into THE DEVIL PARTICLE. Recommended.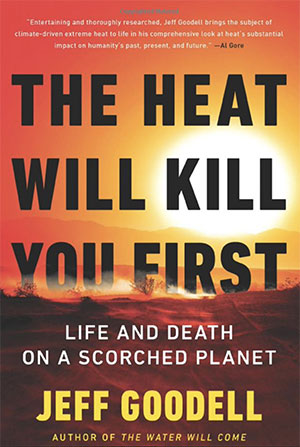 THE HEAT WILL KILL YOU FIRST: LIFE AND DEATH ON A SCORCHED PLANET by Jeff Goodell (adult nonfiction, July 2023, Little, Brown and Company). The planet's temperature is rising, the reality of climate change is hitting home, and heat is already becoming the world's first-order threat.
I am up to the minute on this read! The book came out 15 days ago as one of the most anticipated books of the season and is already an Amazon #1 Bestseller and a New York Times bestseller. This fascinating, fast-paced, well-researched book looks into and explains the many climate-related terrors we've been experiencing the past few years, from deadly heat patterns to apocalyptic, orange skies laden with wildfire ash. Guggenheim fellow and bestselling author Goodell shows how even the privileged few among us will grapple to escape the cascading catastrophes of global warming. And he notes what's impossible to ignore on the horizon (blistering, deadly heat; rising seas; crop failures; social unrest; mass starvation; large migrations) if action isn't taken immediately. I'm not finished reading it, but so far it's an incredible read. Highly, highly recommended.
I've listened to a few audiobooks lately too, and there's one I'm really enjoying so far, so I'll talk about those soon. I find it lovely to have stories read to me.
Hope you're also enjoying some good reads this summer. 🙂
(The above are Amazon Affiliate links, meaning I make a few pennies off the sale of each book, at no cost to you.)
http://www.silviaacevedo.com/wp-content/uploads/2023/07/Book-compilation-July-2023.jpg
500
500
Silvia
http://www.silviaacevedo.com/wp-content/uploads/2021/12/logo_1024x156.png
Silvia
2023-07-26 15:27:21
2023-07-28 10:28:53
What I'm reading – Under the Blanket Sky, Restart, Twerp, The Devil Particle, and The Heat Will Kill You First: Life and Death on a Scorched Planet